by Michael Prendergast on October 26th, 2009
Hi there!
Well, it's about time I gave some more information about the mysterious new feature that's been popping up around here. As mentioned, the new feature is named Easy Select Mode, and it will be making its first appearance in VirtuaMouse One-Hand v1.1.
If you followed the contest, you probably saw the hints that I gave in the contest's comments. For some fun, take a look at the hints again (copied below) and see if you can guess what Easy Select Mode does before I reveal it to you. 😉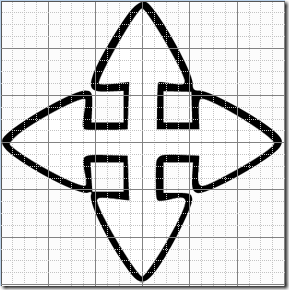 The hints…
This new feature:
1. helps you to move and around in apps, *and* it also lets you do something else.
2. is especially useful in programs where you have lists of items, like in Contacts, or Outlook.
Got an idea as to what it might do?
Easy Select Mode Revealed!
If you guessed that Easy Select Mode is (1) an easy way to switch out of VirtuaMouse to (2) open an email or text message, select a contact, or open an application/webpage link; and then (3) seamlessly reactivate VirtuaMouse — then you'd be absolutely correct!
Good guess! 🙂
To give a little bit more detail: Easy Select Mode will let you quickly switch to your arrow keys, allowing you scroll to and select or open a desired contact/email/program/link, and then automatically switch back to VirtuaMouse's cursor mode.
All of this without taking your thumb off of the d-pad/joypad. 😉
I've been using this feature in an internal release for a while now, and I find it most useful for scrolling web pages in Internet Explorer, emails in the Messaging app, or other types of documents.
So, how does it work?
We'll look at an example. As I said, I personally think it works best while browsing documents, emails, or the web, but let's take a look at the Contacts app.
Let's say that you wanted to call your friend, Rachel Green, to tell her about the awesome new Frappuccino that Starbucks has just introduced.
Side-Note: Before you get all excited — this story is fictional. As far as I know, Starbucks hasn't introduced any new Frappuccinos. Now let's carry on… 😉
You would start by opening up your contact list, as usual.
Normally, if you had VirtuaMouse open at this point, you would use the cursor to tap the scrollbar, moving down the list until you came to Rachel's name. Then, you'd either use your thumb/finger to select her name, or use VirtuaMouse to choose her name and make the call.
But now, instead of using VirtuaMouse to tap the scrollbar arrows, you can just "double tap" on the main part of the scrollbar to switch into Easy Select Mode.
When you switch to Easy Select Mode, the VirtuaMouse cursor changes to the arrow icon, as seen above… and below in the next screenshot.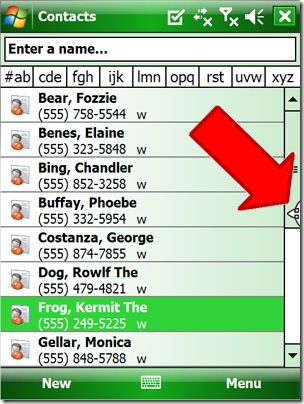 The icon's a little small in that picture, so let's take a closer look:

Once you see this see this icon, you can scroll down the list using your arrow keys until you get to Rachel's name. When you get there, pressing the Action/Enter button will do two things automatically:
Select/open the item that's highlighted – in this case, your friend Rachel.
Re-activate VirtuaMouse so that you can continue to use it until you choose to close it.
Easy Select Mode works in almost any application with a scrollbar. An exception to this are applications with custom/special scrollbars. We'll be adding support for those in the future.
We've been listening to you!
This feature is a direct result of user feedback. One of our customers asked for a way to easily switch in and out of VirtuaMouse to quickly select an email, without needing another hardware button. This is our solution for that request.
We hope you like it! 🙂
I love it when we get feedback, and we really do listen. So please, if you have any feedback/comments, or features that you'd like to see in a future version of VirtuaMouse, feel free to email me personally at michael@innovisoft.com, or add a comment to the blog.
I welcome your feedback!